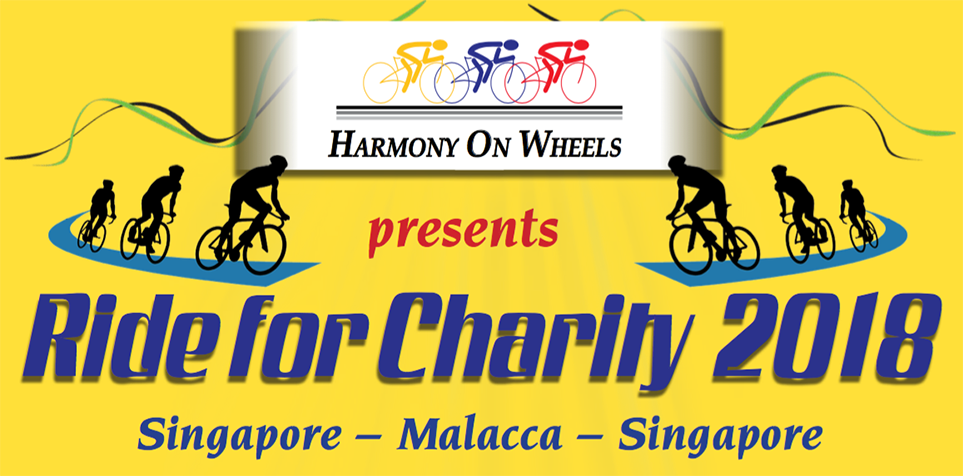 To be able to give is a blessing itself!

Ride for Charity 2018! Raising funds for the needy; as we pedal over 500 km from Singapore to Malacca and back from 23rd - 26th March 2018. An event that brings together all the elements of sharing & giving, bonding & camaraderie, bearing with the heat and rain, firmly rooted in the belief that we are ONE. Embracing inclusivity in every form. Leveling up society by reaching out to the less privileged. Raising funds so that others can continue and expand their welfare projects. Sustaining their programs to ensure a noticeable outcome over the years.
WE can ALL help SIWEC and SUNLOVE. There are many ways of helping:
i) Participate in RfC 2018 either as a rider or event marshal
ii) Take a pledge card to raise funds
iii) Donate to the cause.
It is worthy to note that funds raised will go ENTIRELY to the beneficiaries. Participants of RfC fully pay for their own cost of participation. All participants must register and take a pledge card. They are encouraged to raise a minimum of $500 each.
The event involves cycling 170 km to Batu Pahat on Day 1. On day 2, participants ride another 100 km to Malacca. On the return leg, participants ride back to Batu Pahat on Day 3. The event concludes with a ride from Batu Pahat to Singapore on Day 4.
The registration fee for the 4-day event is $340. It covers 3 nights hotel accommodation (twin sharing) in Batu Pahat and Malacca, some meals, jersey/t-shirt, insurance and project overheads and an appreciation dinner subsequently. A surcharge of $100 is applicable for a single room.
To see how you can contribute to the cause or participate in the event, please contact:
Manjit Singh Randhawa: 9855 0192 / Email:

This email address is being protected from spambots. You need JavaScript enabled to view it.

Luvinderpal Singh: 9004 3954 / Email:

This email address is being protected from spambots. You need JavaScript enabled to view it.

Sikh Welfare: 6299 9234 / Email:

This email address is being protected from spambots. You need JavaScript enabled to view it.
Details on the organizer, Harmony on Wheels, and pictures and videos of its past fund raising activities may be seen at https://www.facebook.com/harmonyonwheels/